What are the main processes of coloring the aluminum shell?
What are the main process of aluminum profile coloring? The following Aluminum alloy parts processing Factory will explain to you:
(1) surface pretreatment: use chemical or physical methods to clean the profile surface and expose the pure matrix, so as to obtain a complete and dense artificial oxidation film. Mirror or matte (matt) surfaces can also be obtained mechanically.
(2) anodizing: under certain technological conditions, the surface of the profiles pretreated by surface anodizing occurs, and a dense, porous and strong adsorption AL203 film layer is formed.
(3) hole sealing: close the pores of the porous oxidation film formed after anodic oxidation, so as to enhance the anti-pollution, anti-corrosion and wear resistance of the oxidation film. Oxidation film is colorless and transparent, use the strong adsorbability of oxidation film before sealing a hole, a few metal salt are adsorbed inside film hole, can make profile appearance shows natural color (silvery white) a lot of color beyond, be like: black, bronzer, golden yellow reachs stainless steel color to wait.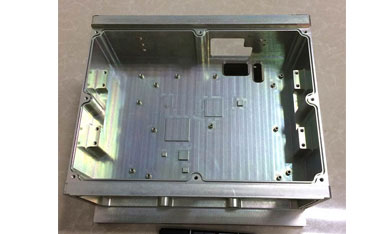 Communication Shell
What types of aluminum profiles can be classified by use?
What types of aluminum profiles can be classified by use? Here's how:
1. Rail vehicle structure aluminum alloy profile: mainly used for rail vehicle body manufacturing.
2. Architectural aluminum profiles (divided into doors, Windows and curtain walls).
3. Mounted aluminum profile, made into aluminum alloy frame, Aluminum lanterns shell, mounted various exhibitions, decorative paintings.
4. Radiator aluminum profile.
5. General industrial aluminum profiles: mainly used for industrial production and manufacturing, such as automatic mechanical equipment, the framework of sealing cover, and each company customized mold opening according to their own mechanical equipment requirements, such as assembly line conveyor belt, elevator, dispensing machine, testing equipment, shelves, etc., electronic machinery industry and dust-free room are mostly used.
We supply aluminum electrical appliances parts, welcome to purchase.